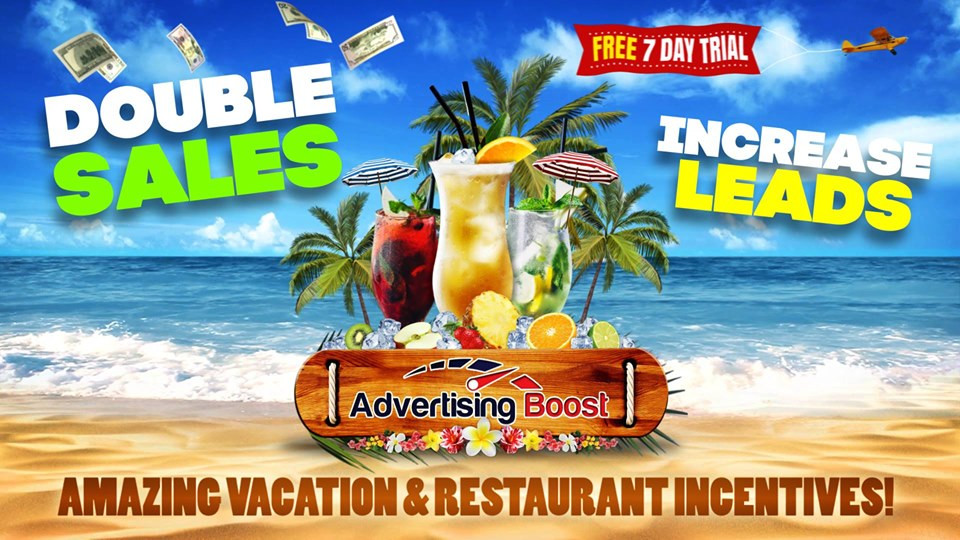 AdvertisingBoost is the Promotion Incentives for small marketers which make us able to compete with Big Companies in the industries.
AdvertisingBoost has doubled our Visitor to Lead conversion immediately and this has reduced our cost of Leads. This also increase our sales and it's really not a Rocket Science that if you gave people something of value they would gladly give their information. Advertising is getting expensive and if you are doing paid ads AdvertisingBoost is the perfect expense cutter.
AdvertisingBoost is a weapon you could use in you marketing efforts to generate leads in any industry you are currently in. People like to travel and there is no other incentives people react to than travel related gifts.
As a Network Marketing professional you need a consistent supply of the freshest and most responsive prospects to connect with in order to effectively grow your business. We offer just that, a wide range of recruiting products and packaging designed for every advertising budget.
Do you want to talk to people who just expressed interest in a home based business?
Our Real Time leads, the highest converting leads, are delivered to you as soon as the prospect submits the form and request more information about a home based business opportunity. The lead is just waiting for your call or message.
Clean, captivating, modern. With Blaster, your landing page foucses on one thing: your message. Blaster is a direct path to telling them why they need your product and service, and it does so in a bold and interactive way.
Keep It Simple
Let's Keep It Simple. If you are marketing online or offline I would not do it without AdvertisingBoost. It gives you the edge you need to compete with your competitors.
Imagine Giving Unlimited Hotel Accommodations to the Following Destinations.
Cancun, Mexico (5 Nights)

Puerto Penasco, Mexico (5 Nights)

Mazatlan, Mexico (5 Nights)

Nuevo Vallarta, Mexico (5 Nights)

Orlando, Florida USA (3 Nights)

Las Vegas, Nevada USA (3 Nights)

Branson, Missouri USA (3 Nights)

Williamsburg, Virginia USA (3 Nights)

Gatlinburg, Tennessee USA (3 Nights)

Acapulco, Mexico (5 Nights)

Tenerife, Spain (3 Nights)

Koh Samui, Thailand (7 Nights)

Phuket, Thailand (7 Nights)

Myrtle Beach, South Carolina USA (3 Nights)

Daytona Beach, Florida USA (3 Nights)

Bali, Indonesia (4 Nights)
Focus on The User
This is a "No Brainer" Big Companies have been using these strategies for a long time now but due to the high cost its not available to the average Joe like you and me. Now that it is I didn't have to think twice to get this and use it a one of my arsenal on my marketing venture. The money is on your Email List and AdvertisingBoost has increased my email listing faster than any strategy I have used and it also compliments other strategies I have used too.
If you are having problems with your marketing, try AdvertisingBoost first before you start spending a lot of money on strategies that everybody is using. Using AdvertisingBoost is like putting Turbo on your engine and if you want to go fast on your marketing you cannot pass this off.
They also have a 30-Day Money Back Guarantee so how can you go wrong. Try it and I'm sure you will keep using them forever.
December 31, 1969 | 53 years, 11 months, 1 day, 9 hours, 44 mins, 55 secs ago
Tags: Advertising Boost Vacation Incentives, Marketing Boost Vacation Incentives
Check Out Related Companies Below
Check Out Related Online Tools Below